How can we improve life of kids with Asperger's?
The Map of Emotions is the result of a collective and intensive brainstorming and co-design exercise around the concept of "code" in the context of the MadServiceJam 2017. Our solution aims to address the difficulties children with Asperger face in socializing and developing their emotional intelligence in schools.
The team has collected information through online research and by conducting interviews with experts who are currently working with youth and children with Asperger in addition to people who are familiar with this syndrome.
The Map of the Emotions is a simple solution to engage and help the entire scholar community (teachers, tutors, parents and the children themselves) generate tailored solutions and provide the needed support in the development of children's emotional intelligent.
The tool consists on a small note book containing a library of stickers with the most common emotions, a page for the personal profile of the student where he/she can share his personal data and interests, a template for each day of the week where the student can put stickers with the different lessons and activities that will take place at the school and how he/she feels regarding each one. The agenda also has a section where the student can share his/her feelings regarding the school colleagues.
The data generated by the children throughout the week can be used by the teachers, support staff and parents to analyze the situations that are generating stress or annoying the student so that they can come up with strategies to mitigate their negative impact in addition to design strategies and activities which could eventually help the children deal with these situations.
Additionally the team has developed a smart watch application which helps children understand others emotions by identifying their mood by interpreting their voices. The application also can also measure health metrics and provide alarms according to the children's feelings so that they know how to act in case of stress, fear or panic.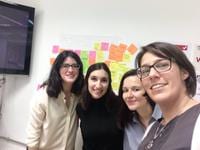 Team members:
María Tarancón
Laura Bejarano Navas
Reka Barath
Itzzi